Many of you have told us that you like visiting Ministry of Retail online fashion store not just to check out and shop for new arrivals but also to get inspirations on outfit matching and pairing. That set us thinking on how best we can display more ways of wearing a particular design and an idea came to our mind – what's better than having fashion bloggers parade the pieces?
Here's a compilation of the latest features from international fashion bloggers: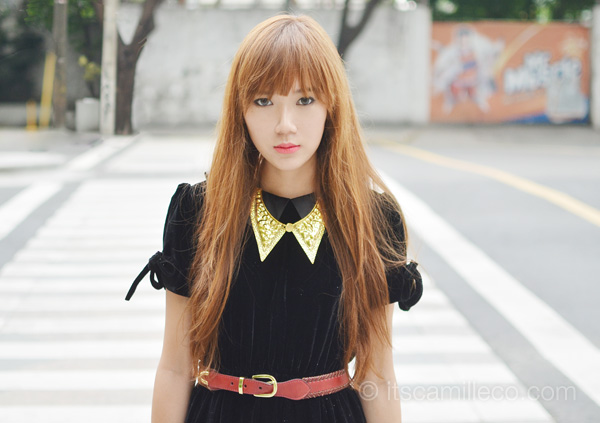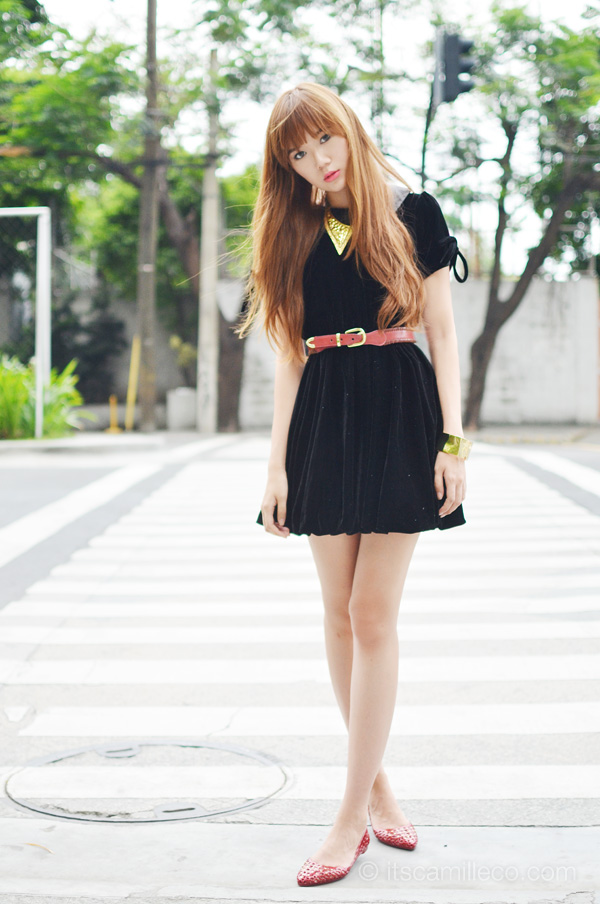 Little Velvet Dress (S$45.80)
See the full entry on Camille's blog here: Lost Little Girl

Think velvet is only for formal occasions? Think again. Take a leaf from Camille's book the next time you "run out" of clothes to wear on lazy Sunday. She literally just wore this dress, grabbed whatever accessories she saw and was out of the door.
We love just how rich and soft the velvet fabric feels. If you're wearing this for a D&D, try pairing it with neon coloured velvet-texture accesories and heels.
Mrs Addams Slit Long Dress (S$40.80)
See the full entry on Jen Tam's blog here: Easy Chic

What can else we say about the fabulous styling of Mrs Addams Slit Long Dress done by Jen? WE LOVE IT! Take heed from blogger Jen and pair this with a bold scarf, a pretty black belt with detailing, heels and bag in matching colour and twisting your hair into a chignon. Alternatively, if you have a bolder belt, pair it with a smaller/shorter piece of scarf tying it just at the neck area (think Stewardess).
Lace Sleeves Peplum Top (S$45.80)
See the full entry on Jen Tam's blog here: Canary

It seems that pairing this lace sleeves peplum top with a sleek black pants is a well-loved way. We love how the cutting of this top brought out the curves and the bold necklace enhanced it further. Alternatively, pair this with a sleek milky white pencil skirt (make sure colour matches otherwise skip white) – as if you're wearing a peplum style dress!
Hollow Airy Tunic-Dress (S$38.80)
See the full entry on Alexandra Catherine's blog here: All That Glitters

This is a piece all of us kept for ourselves – a casual and chic piece. Hitting the mall? Skip the tee and slippers. Take inspiration from Alexandra, push up the sleeves, grab a thick bangle, nice sling handbag and sandals. Alternatively, we also like to swap the white inner piece with a bright neon piece and pair it with a slim belt. Have it your way

p.s: Mad love the golden sunshine of Canada!
Hollow Airy Tunic-Dress (S$38.80) and Hood in the Night Coat (S$72.80)
See the full entry on Alyssa's blog here: My head is a jungle

Have we already mentioned swapping the inner piece? This is what fashion blogger Alyssa did. If you're adventurous, pair it with an inner piece with loud prints or even bralet and a matching skirt. Experiencing rather eccentric weather that blows hot and cold (unfortunately it might never get cold enough in tropical Singapore)? Put on a chic winter coat when you're outdoors and shed it when you're indoor.
The Blue Maxi Dress (S$45.50)
See the full entry on Khatu's blog here: Maxed Out
Simply elegant! Lazy to dress up on Sundays? Attending a wedding ceremony in the day with a relaxed dress code? Opt for the blue maxi dress.We like how blogger Khatu styled her maxi dress – Simply pull back your hair into a sleek ponytail, put on a pair of elegant looking pearl earrings and slip into a pair of comfortable leather sandals (yay – let your feet rest on weekends!).
Wondering what to wear? Wonder no more.
p.s: If you are keen to work with us for styling and other collaborations, drop us an email at more@ministryofretail.com