Oscars 2012 ended yesterday and has set the fashion scene and newsroom abuzz with conversation. It doesn't matter whether you know what is Oscars (it's an awards ceremony, by the way) or what happened during the event as everyone is most concerned with the red carpet fashion – what stars wear the moment they hit the red carpet.
Let us take a look at who graced the best dressed 'awards' (unofficial, that is) this year plus some hidden gems we dug out!
Angelina Jolie in Atelier Versace – Ok this is not a hidden gem but a gem nonetheless. Presumably the most talked about and winner of the 'best dressed award' for Oscars 2012. The high slit and her signature pose, though a little unglamorous has drawn so much attention that a twitter account was set up for… her leg! No kidding. That twitter account even has 11,000+ followers. We do have to admit that the black velvet dress is sexy although it doesn't reveal too much skin and it's so 'Hollywood' that no accessories (necklace/bracelets/clutch bag) is needed!
Shop similar fashion on Ministry of Retail:


L-R: Mrs Addams High-Slit Long Dress (S$40.80), Little Velvet Dress (S$45.80)
Gwyneth Paltrow in Tom Ford – A hidden gem! Although most people/media site crowned Angelina Jolie as the best dressed. We beg to differ. The simplicity of Gwyneth's outfit and the elegant of the white + cape combination clinches the best dressed award from us anytime. Seems like Gwyneth prefers to stick to clean long lines, recall her Grammy outfit (a Stella McCartney) here.
Shop similar style on Ministry of Retail:


L-R: Cloak Style Jacket (S$55.80), Military Cape Vest (S$55.80)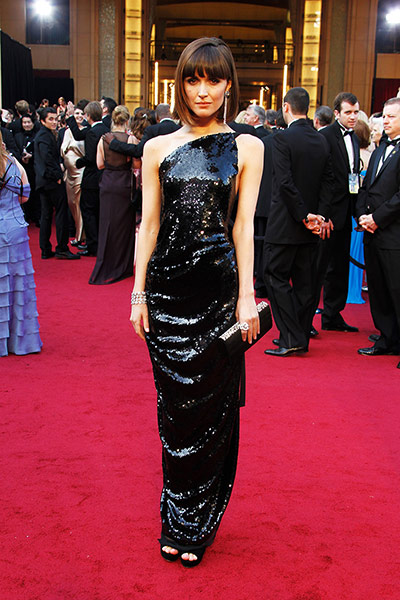 Rose Byrne in Vivienne Westwood – A total hidden gem. There was little mention of this lady at the Oscars but I think what she have here is awesome! I love her hairstyle and how the neckline blends nicely with her fringe and earrings (it'd have been a disaster if it's the other way round). The liquidity of her sequin gown causes lovely drapes to form and also clings to her figure (thus showing off and enhancing it). A total hit!
Meryl Streep in Lanvin – A hidden gem (sustainable material) Love the glittery gold of this gown against Meryl's fair (and well-maintained) skin. The details (such as the neckline and the drapes at the waist) could have been better and more flattering (after all, Meryl Streep is not some 20-30 year old young lady with a slim and slender body) but nonetheless we love how Meryl rocked this gown. We love it all the more when we found out that the dress was made from eco-friendly material (read more: Livia Firth's Green Carpet Challenge).
Tina Fey in Carolina Herrera – Who knew peplum could look this lovely on a tube-style evening gown? Tina rocked this piece with elegance and a dash of attitude though it's a little plain. She could have been bolder with a inverted-triangle style diamante necklace, a lovely diamante choker necklace or details of sorts. Otherwise it could be mistakenly and quietly chucked aside as just another little black dress (LBD).
Which other star gracing the red carpet of Oscars 2012 do you think is a hidden gem?